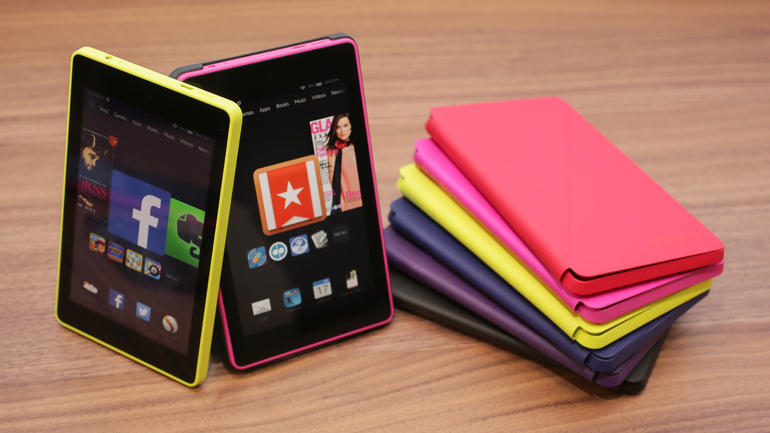 With the Fire HD 6 we see Amazon approach the standard paperback book size device. If you like the form factor of a Kindle eReader, but want a fully-fledged tablet with a proper web browser, email, Skype and apps, Amazon can now oblige with the Fire HD 6.
Notice that Amazon has dropped the 'Kindle' from the name with its latest tablet range, possibly to help differentiate them from plain eReaders.
At the low end is the new Fire HD 6 tablet, which the company is selling for $99, or $114 for a version that doesn't display ads on its lock screen.
With a 6-inch diagonal screen, quad-core processor and a polished interface that Amazon built on top of Android, the HD 6 might be a nice option for people who use Amazon.com services and want a pocket-size tablet.
The Wi-Fi-only tablets do the basics just fine — browsing, email, video playback, e-book reading and mobile gaming — but low prices are their big selling point.The headphone socket, microUSB port and sleep/wake button are on the top edge, along with the microphone, and volume controls are on the left. A single speaker sits at the bottom on the rear.
Display: 6-inch IPS LCD 800 x 1280 pixels 252 Pixels Per Inch
Processor: MediaTek 1.5 GHz quad-core
RAM: 1GB
Storage: 8GB or 16GB, no microSD card slot for expansion
Connectivity: Wi-Fi 802.11 b/g/n, Bluetooth
Sensors: Accelerometer, Gyroscope
Colors: Black, White, Cobalt, Magenta, Citron