I have recently posted about a big file host uses nginx as web server.
http://www.videosharingscript.com/file-sharing/depositfilescom-use-nginx-web-server/
Today i found another file host having same problem. This site don't have much traffic, i checked it as i found the site is for sale by its owner. He have a download url for others to test.
When i go to that url, i see the error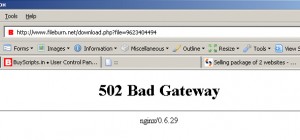 It seems nginx don't like me 🙂
It shows me bad gateway on two file hosting sites or it need me to blog about it.
I just made a refresh and the site is online, it may be caused by the web server restarting and i visited in right time to see the error message.
What you think ? nginx is better than lighttpd ?