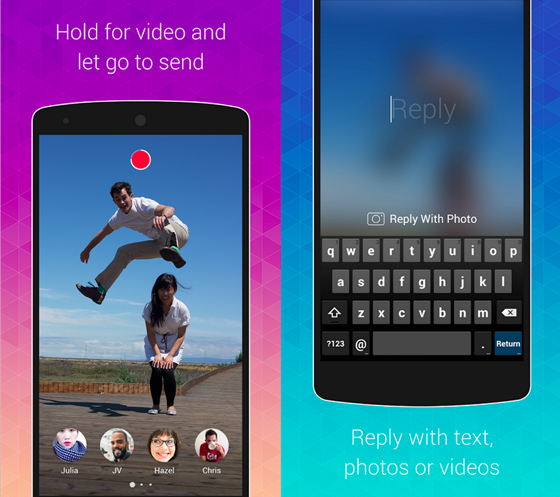 Instagram has quietly unveiled its new "one-tap" messaging app, Bolt, for iOS and Android. The app lets you quickly send a photo (or video) to a friend, which then disappears once it's been read. Bolt is essentially a carbon copy of buzzy messaging app Taptalk, although a lot prettier. Tap on a friend's face to send a photo instantly, or long-press on their face to send a video. Shake your phone to undo an accidental Bolt. But there's a catch: Bolt is for now only available in New Zealand, Singapore, and South Africa.
"We're going to other regions soon, but are starting with a handful of countries to make sure we can scale the experience," an Instagram spokesman tells The Verge. "Instagram has 65 percent of its users overseas, so an international launch, while different, is actually not all that out of order with what we do." The spokesperson elaborated that the three countries were chosen for their geographical diversity, but also for their tight-knit communities, which Bolt hopes to piggyback on. Bolt, like Taptalk, only lets you send messages to one person at a time, which makes it most useful for sending quick photos or videos to a small number of people. The favorites bar at the bottom of Bolt only holds four friends, after all, though you can add up to 20, a list of which you can access with a swipe.
Bolt's launch comes at an interesting time. Just last month, Facebook launched Slingshot, an ephemeral messaging app that lets you do many of the same things. The two apps even include an identical text editor, which lets you drop big white text on top of a photo or video. Slingshot, however, emphasizes sending photos and videos to many people at once (instead of just one), and includes a novel mechanic that makes you send a photo before you can view the one you just received. The two apps seem quite different in actual usage, but address a similar need — the private, ephemeral sharing Facebook doesn't yet encompass.