Investing in Iraq Dinar is a good opportunity to make money. Many banks and organizations do this silently and making large profit. Value of Iraq Dinar went all time down due to Iraq War. Before the War, you need $3 to buy a Iraq Dinar. Now you will get 1 Million Iraq Dinar for less than $1000.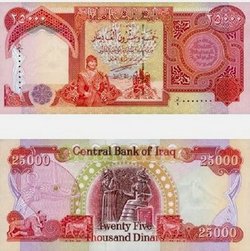 Iraq have largest oil, natural gas and water reserves in the world. Once the war and related issues are over, Iraq Dinar will regain its value. That is those who brought 1 Million Iraq Dinar will become real millionaire. Many of them men in uniform in Iraq is converting their USD salary to Dinar bank accounts as they know value of Iraq Dinar is constantly increasing and is good opportunity to make money.
In US, you can buy Iraq Dinar from
I have not brought any Iraq Dinar from them or have any experience in buyig Dinar. There are many scam company that collect your money and disappear with it. This one, i am not sure if they are reliable or not. So do it at your risk.