Facebook has announced it's giving users more control over what they see in their News Feed, as well as letting them give feedback about what they're seeing.
In your News Feed settings, you'll now see a list of the most prominent Pages, Groups and people who have appeared in your feed over the past seven days. You can filter the view by people, Groups or Pages, or see them all at once. You can also unfollow directly from this section, and also see who you've previously unfollowed (and choose to re-follow them if you wish).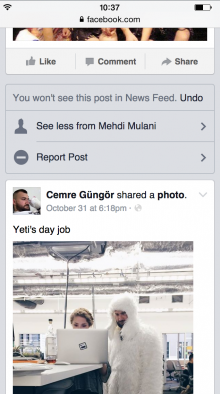 Essentially, Facebook is rolling out a more in-depth settings menu for the News Feed: for starters, you can now choose to "see less" from your friends on Facebook, rather than unfollow them entirely. Previously, when you tapped a story in your feed, you could choose to stop receiving updates from that friend, but now you can just tell Facebook to tone it down a little bit.
The refreshed News Feed settings are already started rolling out on desktop and mobile, while the additional new option for providing feedback about News Feed will be available on desktop only for now, before landing on mobile later this month.