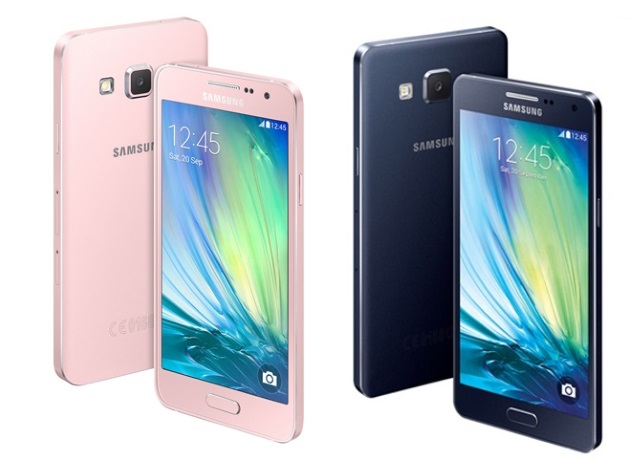 Samsung today officially announced the Galaxy A5 and Galaxy A3, putting an end to all the rumors that have been surrounding the two devices in the past months.
The new handsets are part of Samsung's Galaxy A series – which is tailored for "young consumers seeking practicality and functionality" – and are presented as the company's slimmest smartphones to date: 6.7mm (Galaxy A5) and 6.9mm (Galaxy A3). For some weird reason, Samsung seems to be forgetting that it has already released a 6.7mm-thin smartphone: the Galaxy Alpha.
Anyway, both the A5 and A3 come with "full metal unibody" designs, and Samsung says they're optimized for social networking – thanks to LTE, and 5 MP front-facing cameras that'll let you take "vivid selfies."
The announcement, combined with hopes for an earnings recovery and bigger dividends, pushed Samsung's shares to a two-month high in Seoul in midday trade on Friday.
The news comes a day after Samsung reported its worst quarterly operating profit in more than three years. Earnings from its handset division slumped 73.9 percent from a year earlier.
The company said its responses to "rapid shifts in the competitive landscape" were not quick enough. It vowed to revamp its offerings.
"For our mid to low-end smartphones we will enhance product competitiveness by differentiating our displays and materials as well as upgrading camera functionality," Senior Vice President Kim Hyun-joon told analysts on Thursday.
The world's smartphone leader is regrouping as it lost market share in annual terms for the third straight quarter in July-September, according to Strategy Analytics.
It has been beaten by Apple Inc's iPhones in the premium segment and undercut by Chinese rivals like Lenovo Group Ltd and Xiaomi Inc at the bottom end.
Samsung will likely accept lower margins going forward to preserve market share and growth volume, analysts said. But most do not expect a firm recovery until mid-2015 at the earliest.