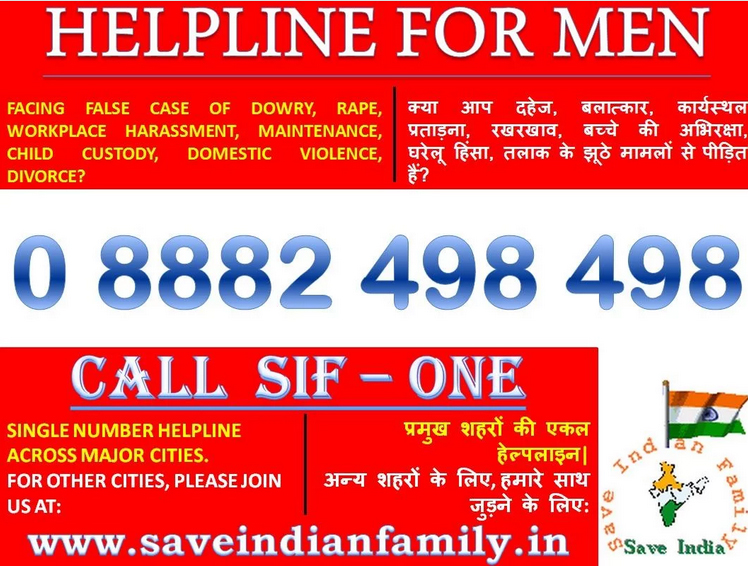 An NGO working for protection of men's rights has come up with a unique mobile application and a dedicated helpline number to help men in distress.
Save India Family Foundation, the NGO whose Kolkata chapter is known as 'Hridaya-Nest', developed the app keeping in mind a growing tribe of males who are becoming victims of the alleged misuse of Section 498a of the IPC and anti-rape laws.
The app named 'SIF' was launched in April.
"Any man, who is facing harassment, both legal and otherwise, domestic violence, abuse on social media and family disputes can contact SIFF counsellors on the single click of a button "SIF APP", Amit Gupta of Hridaya-Nest said. He said the APP would offer details of 50 NGOs in 50 cities in 25 states where people could personally seek legal counselling and support.
SIFF, a platform of more than 50 NGOs which are fighting for men's rights and injustice against men across India, has been working to help men in trouble for the last few years.
According to an official of SIFF, the mobile APP and the helpline number also offer access to various case studies to fight back misuse of anti-rape laws and 498a cases.
"In the mobile App, we also provide you a window to the library of such important judgements and case studies," the SIFF official said. "We aim to reach more than eight crore smart phone users of this country," Gupta said. The helpline too has been a huge hit as it has received more than 16,000 calls in less than 50 days from its launch, he claimed. The helpline has been launched in the states of MP, Delhi NCR, Karnataka and Uttar Pradesh, Madhya Pradesh, Bihar, Rajasthan, Haryana and other states.
"The highest number of calls have been received from Madhya Pradesh," Gupta said and claimed that they had received calls and responses from foreign countries as well like Singapore, UK and the USA.
Among the cities, the maximum number of calls, 23 per cent of all, have been received from Delhi, while the lowest, one per cent, have been received from Vizag.