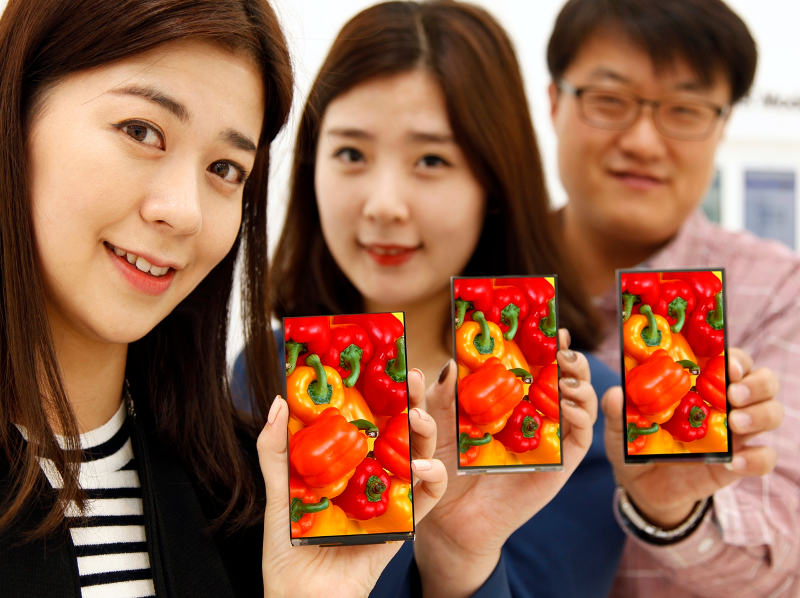 LG Display is having a good year so far, having seen profits increase last quarter, and the company has just made another important breakthrough in its smartphone display technology. LG Display has announced a 5.3 inch Full HD LCD panel which has the world's narrowest bezel – just 0.7mm. For a little perspective on just how crazily thin this bezel is, the thickness of a credit card is 0.8mm.
LG Display's Neo Edge technology uses an adhesive instead of double-sided tape to attach and completely seal the total area and edges of the panel's circuit board and backlight unit. Because there is no plastic guide panel to attach the panel and backlight, the Neo Edge technology helps achieve minimal bezel width, while blocking light leakage and being waterproof and dustproof.
The adhesive seal also prevents corrosion that sometimes occurs along the edge of the glass panel when double-sided tape is used, while dramatically improving the panel's durability despite the narrow bezel because of increased elasticity as the adhesive hardens.
The company's AIT technology, exclusively developed by LG Display, reduces the need for bezel space because the touch panel is embedded into the LCD module. The technology offers a slim design and excellent touch, while saving costs since a separate process for touch functions is not required.
LG Display will start mass production of the product in November and supply it first to customers in China, where demand for large screen smartphones is strong, while actively promoting it globally.