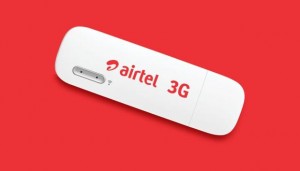 Bharti Airtel has launched its 3G Wi-Fi dongles offering download speeds of up to 21.3 mbps speed on 3G.
Powered by HSPA+ technology, Airtel's 3G Wi-Fi dongles will be available in telecom circles such as Mumbai and Andhra Pradesh in the initial phase. Airtel said other locations will be covered in phases.
Users will be able to create a Wi-Fi hotspot anywhere, and connect up to 5 devices by plugging the dongle to any USB port including ports on laptops, phone chargers or car stereos.