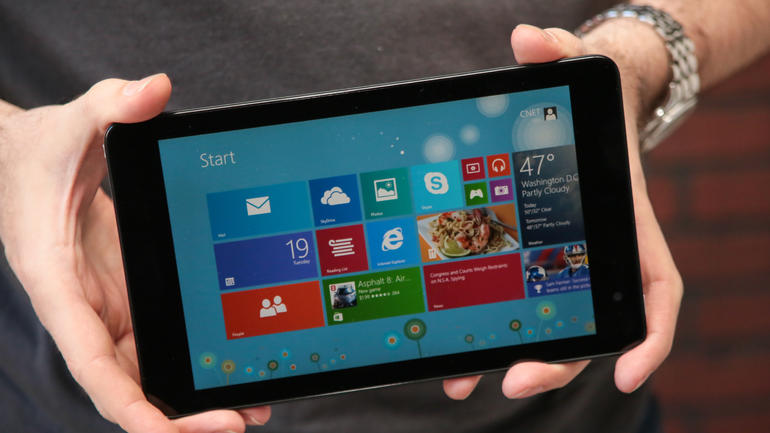 8-inch tablets occupy a handy niche in the tablet world, offering up more real estate than their diminutive 7-inch cousins, but still falling squarely into the portable category. Today Dell is offering a sweet deal on its recently updated Venue 8 tablet, loaded with modern specs for just $150.
Tablets are getting bigger and better all the time, as the bar raises for what can be considered a budget device. With an 8-inch 1080p display and Android 4.4, and selling for just $150 right now, Dell's Venue 8 tab is an example of just how much you can get today without spending big.
8-inch tablets have become increasingly popular, in large part due to the ability of manufacturers to easily get more pixels and more power into the thin slabs of their tablets, making them more effective at both productivity and entertainment. That extra inch of real estate really comes in handy for both of those purposes, at just a slight cost to portability. Dell's Venue 8 features an 8-inch display with 1920×1200 resolution — which is actually even higher res than your typical widescreen 1920×1080 display — giving you excellent pixel density. Powered by a dual-core Intel Atom Z3480 processor, it'll provide solid performance for typical tablet uses like watching movies and browsing the net.Includes a high resolution 2MP front camera, and comes in a black color.
Video chats will look good thanks to the 2MP front shooter, and there's a 5MP rear camera as well for more detailed shots. At just 8.95mm thin and weighing 0.74 pounds, it'll be simple to place it in a bag or just pick it up to take on the go. Dell backs it with a one year warranty. Take advantage of this rare doorbuster price on a capable tablet while it's here.
Dell Venue 8 (3840) 16GB tablet for $149.99. Apply coupon code K95KRNB$M7?X0P to get total $50 savings.
Dell Venue 7 (3740) 16GB tablet for $119.99. Apply coupon code XWHP?QLXBRZDVD to get total $50 savings.