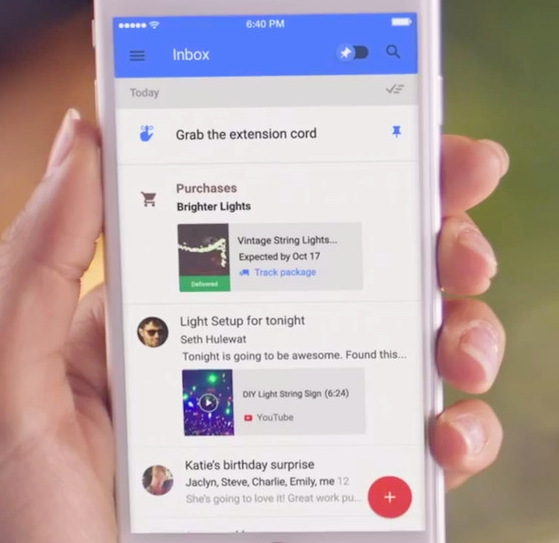 Sorting through hundreds of emails and picking out what's important can be a real pain, and now Google has built a tool to help fix that problem.
Inbox, which launched Wednesday, offers a different way of handling the daily avalanche of email. Specifically created with mobile users in mind, it sorts and turns emails into reminders, highlights the important bits and adds outside information it thinks is helpful.
The app aims to reduce the amount of time people spend with email and highlight important information. Similar to the existing "Social" and "Promotions" tab in Gmail, the app takes it one step further and groups together emails that share a common subject — purchase receipts or bank statements, for example. Users can configure the app to group specific types of emails that they want organized together.
Inbox works by grouping similar messages together, like bills, in what Google calls "Bundles." You can schedule a bundle to only show up at specific intervals, say once a week. There's no need to read all the words in an email just to get to the juicy bits. Inbox will highlight what it thinks are the key parts of an email, like contact information, confirmation numbers or photos.
Inbox is currently only invite only. It is available as and iOS and Android app, as well as a desktop view (for Chrome browser users only).