Go to this create Facebook page link and select the type of business you are having. Selecting proper category, will help your brand to reach the right audience.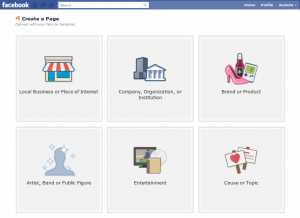 For example, you need a Fan page for your Website or Blog, select "Brand or Product" and select Websites from Drop-down. Then, add your brand name.
Click on Get started, and next step is to add an Avatar for your Fan page. I would suggest, use your official Gravatar and if you don't have any Gravatar, you can always create a Pic for your Fan page and keep it close to your brand logo.
Max size for your Faceboook Fan page profile pic is 180*540 Px. Once you done uploading picture to your newly created Facebook fan page, Facebook give you an option to invite your friends to Fan page. You can skip it for now and use this feature later. On next page add your Website details and click on Continue. Once done, you will have a page like this (Below) and you can hit like and recommend people and also edit page settings.