For setup an online clothing store, one of our client from Kochi, kerala contacted us through our E-commerce Installaton page. His requirements listed below.
1. Clothing store, which will have different category of dresses.
2. Category creation option from admin side.
3. Need to upload dresses photos, description, rates etc.
4. Payment options required as credit card, bank transfer etc.
After checking his requirments we told him, can built it on WordPress + WooCommerce plugin.
For payment options we used CCAvenue Payment Gateway for WooCommerce plugin
We created a demo site with dummy content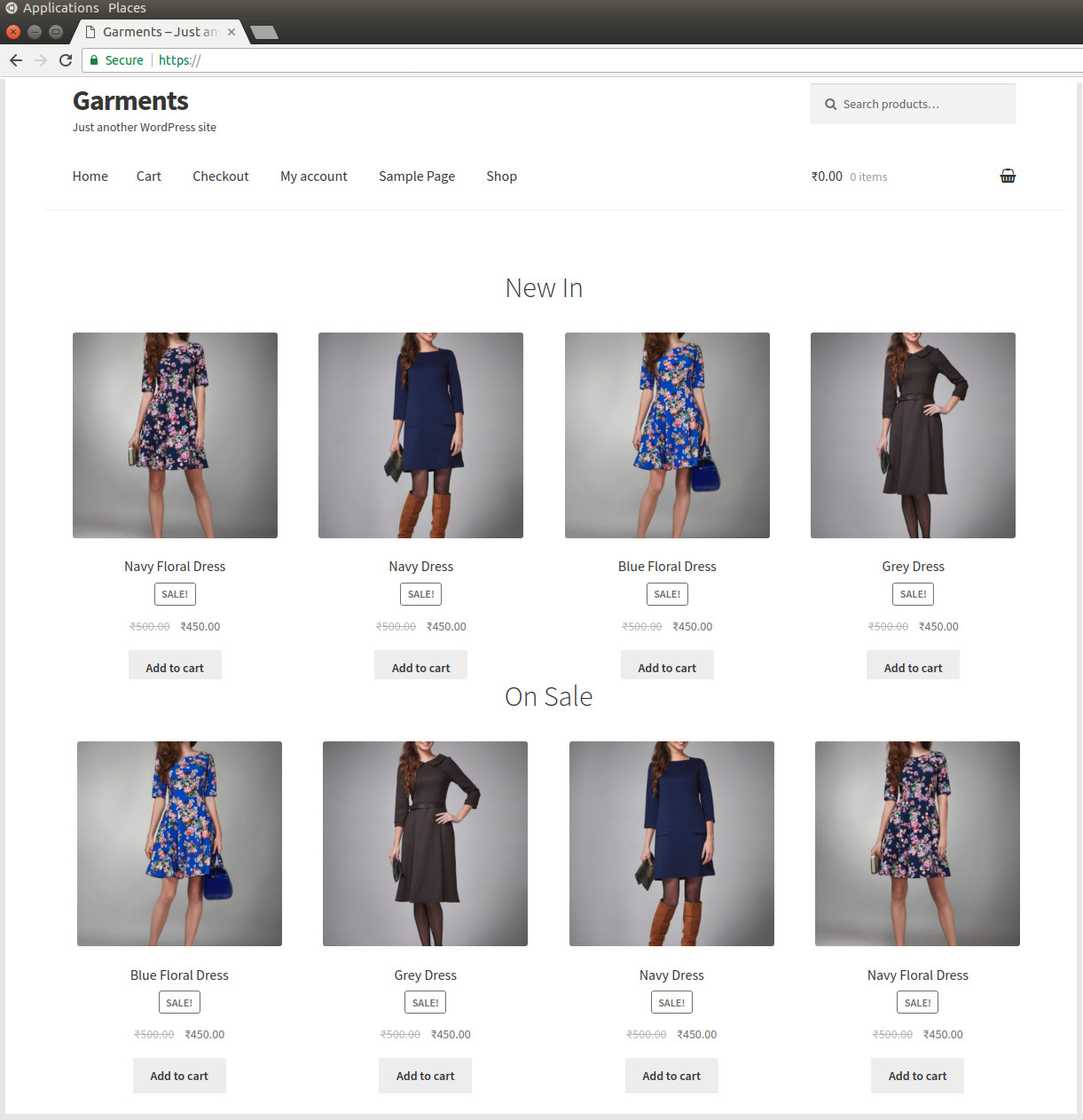 and installed CCAvenue plugin. While configuring the plugin, it was asking
Merchant ID – This id(USER ID) available at "Generate Working Key" of "Settings and Options at CCAvenue."
Working Key – Given to Merchant by CCAvenue
Access Code – Given to Merchant by CCAvenue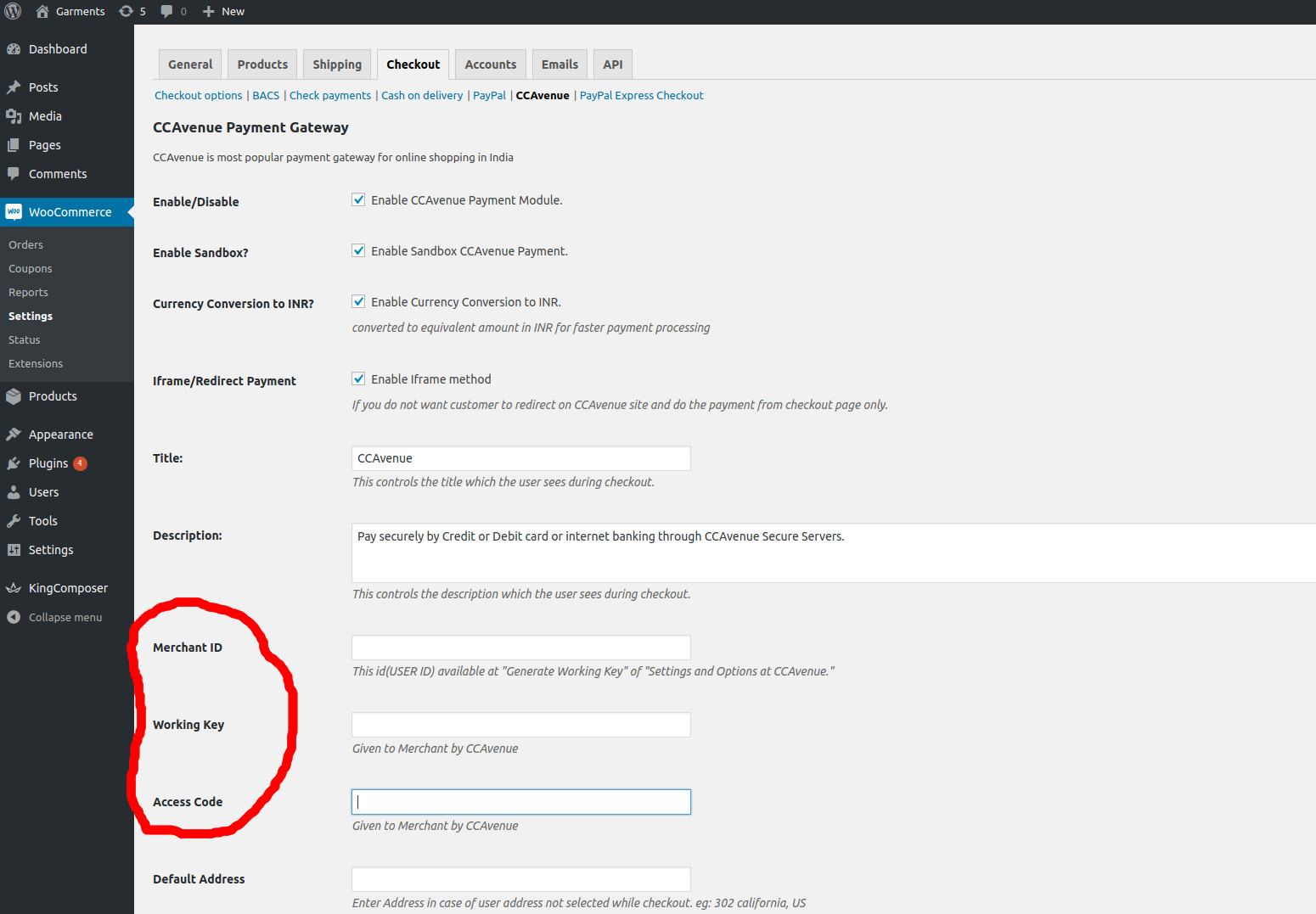 We have sent an email to ser[email protected] to get the sandbox account and their reply was
while working on cc-avenue u should know that there is no sandbox or testing account.
if you want test url of ccavenue you can get it after you register a merchant account in ccavenue
What you'll need to get CCAvenue account
Before signup at CCAvenue please make sure you have the following:
1. Website : A fully functional website with following pages
2. About us Page : Firm legal name should be mentioned along with a brief description about the Firm.
3. Contact us Page : Should contain Firm name, support phone no., Support email id and complete address
4. Product/Service Page : Pricing and Description should be clear.
5: Return, Refund and cancellation policy Page : Should be complete and clear.
6: Shipping/Delivery policy Page : Should be complete and clear.
7: Privacy Policy Page : Should be complete and clear.
8: Terms & conditions and Disclaimer Policy Page : The T&C should be clear and complete along with the cppyright text
We signup for the free plan at https://dashboard.ccavenue.com/web/registration.do?command=navigateSchemeForm and successfuly verified phone verificaiton and email received.
Dear Sir,
Greetings from Avenues!!!
We appreciate the opportunity to assist you.
This is in reference to your CCAvenue account registration.
We are glad to inform you that your account with CCAvenue has been Approved and Activated today for INR payment gateway for the below mentioned Line of Business.

Line Of Business – Web Hosting and Domain Registration.

Also note for any changes in the website URL/Domain name Or Line of business kindly intimate CCAvenue via e-mail at [email protected], failure to this can lead to Payout on Hold/Penalized by the card companies.

Integration :

You may download the Integration KIT from the M.A.R.S panel.
Kindly find the below link from where you can download the Integration Kit.
https://mars.ccavenue.com/downloads/IntegrationKits-WebMobile.rar

The post action URL must be https://secure.ccavenue.com/transaction/transaction.do?command=initiateTransaction

Further kindly provide the URL of the server from where the request would be originating so the same we can whitelist at our end.
Please contact our Technical support team at [email protected] for any difficulty you may face during integration. You may reach them at + 91 – 022- 67425555 Ext: 405/406/407/408/409/413/422.
Another mail we received for asking below doccuements.
1) Agreement (Require Hard Copy) Download Agreement – https://www.ccavenue.com/downloads_mcpg/Sub_Merchant_Agreement.pdf
Follow below Instruction for Agreement :
[Please take a print directly from the pdf file on plain A4 Size paper and fill all the details with pen. Kindly affix signature of authorized person and company stamp at the bottom of all the pages, especially on the 1st page of the agreement there are 2 places to sign & stamp in the column "On behalf of the Sub Merchant" & at the bottom. The agreement need to be signed only by the authorized person mentioned in the board resolution with Company Seal.]
Kindly note that in case if for any reason we require you to submit the Stamp Paper for the value of Rs.600/-,request you please oblige with the same.
2) KYC Documents : (Required Scan Copy)
i) Office Address proof: A clear visible Copy of Copy of your Landline telephone bill or Electricity bill or Bank Statement (latest – for the last 2 months) duly attested.
ii) PAN Card of the Firm and all Partners , duly attested by an authorized Signatory.
iii) Scanned copy of A voided cheque (cancelled cheque) for the bank account into which you will be receiving payments.
IV) Copy of Partnership Deed duly attested by an authorized Signatory.
3)Feasibility To send Documents :
I) Agreement – Kindly send the Hard copy of the Agreement through Courier on below mentioned address :[Avenues India Pvt Ltd. Plaza Asiad, Level II, S.V.Road, Santa Cruz (West), Mumbai 400054.India.]
After sending documentaiton recived a mail
Dear Sir/Madam,

We appreciate the opportunity to assist you.

We would like to inform you that, we have received the complete set of documents from your end and the same are under audit process. You can start processing the transactions. Please note that we can release the payouts only once the Unsettled amount reaches Rs.500/-.
Should you need any further assistance in this regards, kindly get in touch with us any moment. We will be glad to assist you.
After 3 days, we got another mail with the CCAvenue login details to login at https://dashboard.ccavenue.com/jsp/merchant/merchantLogin.jsp
How to get the credentials
Step 1: Login to the Ccavenue
Step 2: Go to the settings panel, Then select the Api key option,
Step 3: Then select the Api key option and get the credentials,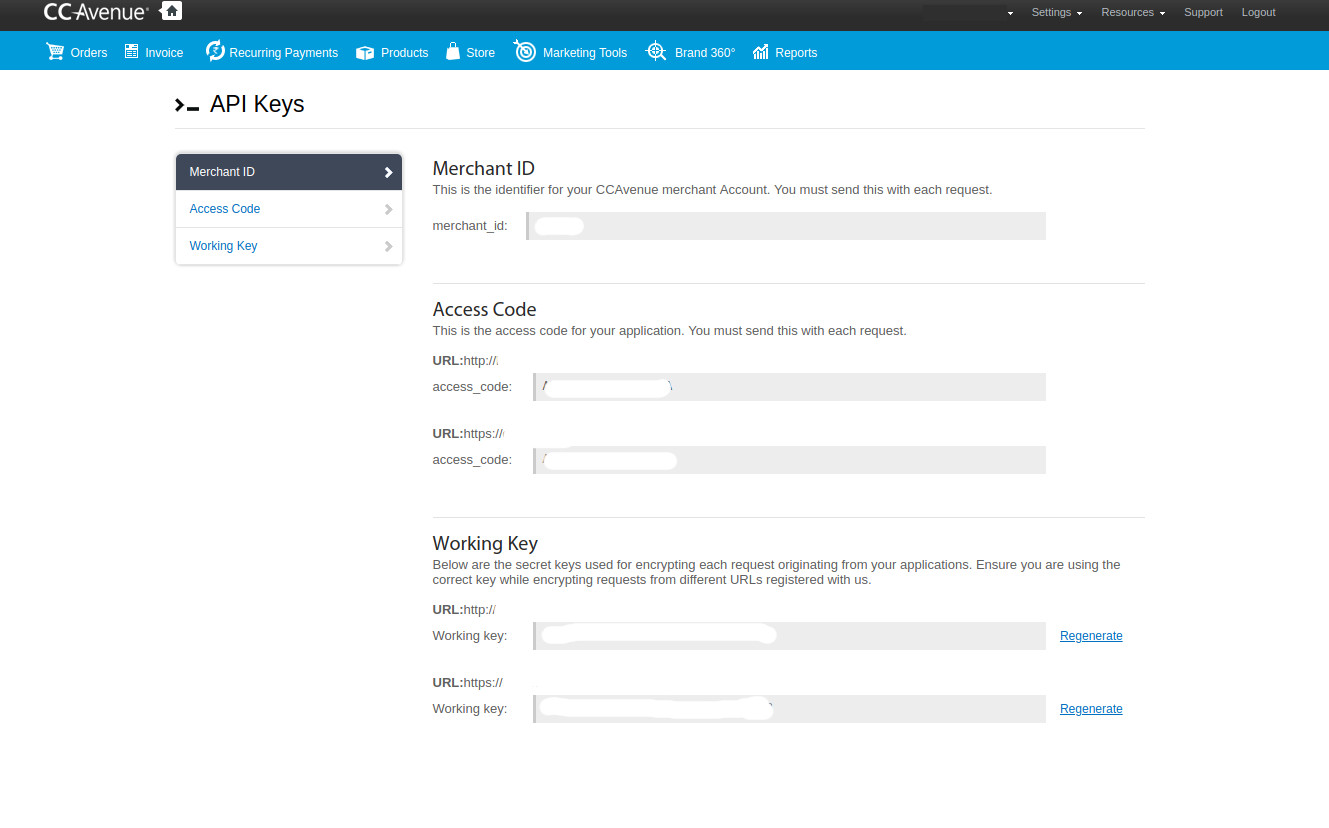 For testing CCAvenue in demo site, we sent an email to [email protected] from our registered email account and here is the reply we received yesterday
Dear Sir,

We appreciate the opportunity to assist you.

Further to your below mail, please note the url https://demourl.com/ has been whitelisted to your CCAvenue Account.

Further In case you require any assistance about the same, kindly send an email to [email protected] or can call them on : + 91 – 022- 67425555 / 61666000, Ext: 405/406/407/408/422/413.