Today, 1 October 2014 Microsoft announced availability of Windows 10 while everyone is looking forward for Windows 9.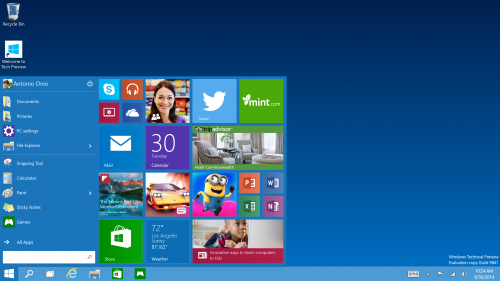 Windows 10 is more like Windows 7. New OS adapts to device you are using, no one size fit for all like in Windows 8.
Windows 8 with tablet like Metro Interface managed to push many windows users away from Windows. While i was using Windows 7, i tried Windows 8, i hate the new Metro Interface, it may be good, but who like changes, when you are used to start menu and Task bar for years ? What i hate most is you have to use some third party software (paid or free) to get old task bar and start menu. I don't trust third party software that much to install them by default on my PC for both security and performance reasons. If Microsoft developers have spend few hours and make an optional start menu/task bar from the start, it would't have such a failure.
With Windows 10, Microsoft is adding features that customers need most. With Linux based operating systems getting very popular these days and valve releasing SteamOS, Linux based Gaming platform, Microsoft need to care more about Windows customers and their needs to keep them using Windows.
With Linux distro like Ubuntu, SteamOS and Google chrome book, Android tablet eating into Microsoft Windows market, it won't be long before Microsoft will give Windows for free. Apple already going newer version of their operating system free for every existing customers while Microsoft changes for every new release of Microsoft Windows.