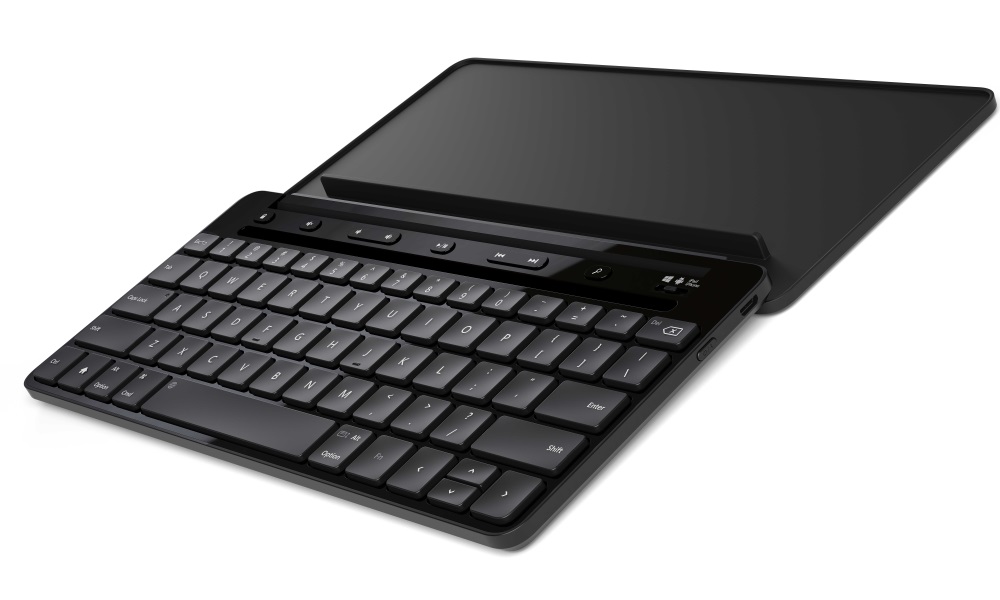 Microsoft today added four new accessories to its lineup, all of which are set to arrive before the holiday season this year.Microsoft has developed a keyboard designed for iOS, Android and Windows tablets in its latest move to underline the company's focus on providing software services.
Microsoft's pitch for this new keyboard is simple: it works with your tablet as well as your smartphone. The Universal Mobile Keyboard is compatible with Android and iOS devices, as well as Windows tablets.Microsoft says the keyboard will get 6 months of normal usage on a single overnight charge, while a 10 minute charge will offer 8 hours of usage. As for its size, the keyboard measures .47 inches thick and weighs 12.875 ounces.
The keyboard's feature list is as follows:
1. Designed for iPad, iPhone, Android devices and Windows tablets: The OS switch allows you to work seamlessly across iOS, Android and Windows without sacrificing functionality, and to pair up to three devices with different operating systems at the same time. It also offers each platform's unique keys, including the Windows Control key, the iOS Command key and Android's Home button.
2. Integrated stand: The multipurpose cover includes an integrated stand for your smartphone or tablet.
3. Easy on/easy off: Flip the cover open to power up and connect, close the cover to power down.
4. Protective shell: The self-enclosed protective shell eliminates the need for and clutter of an extra carrying case.
5. Detachable cover/stand: The cover with integrated stand can easily be detached, allowing you to position your device in a more comfortable position.
6. Rechargeable battery: Microsoft promises up to six months of usage on a single charge.
The company plans to release the Universal Mobile Keyboard next month for $79.95.