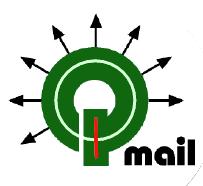 Plesk control panel in Linux can use Postfix or Qmail as SMTP server. Here are some useful commands working with Plesk Server with Qmail SMTP Server.
Stop/Start Qmail
To start qmail use

service qmail start

To stop qmail use

service qmail stop

Log file
In pleask, qmail store logs in

/var/log/maillog

qmail-qstat
Shows mail queue status.

# /var/qmail/bin/qmail-qstat
messages in queue: 44
messages in queue but not yet preprocessed: 0
# 

qmail-qread
To view mails in queue, run

/var/qmail/bin/qmail-qread

qmHandle

# /usr/local/psa/admin/bin/mailqueuemng 
qmHandle v1.2.0
Copyright 1998-2003 Michele Beltrame

Available parameters:
  -a      : try to send queued messages now (qmail must be running)
  -l      : list message queues
  -L      : list local message queue
  -R      : list remote message queue
  -T      : list todo message queue
  -s      : show some statistics
  -mN     : display message number N
  -dN     : delete message number N
  -Stext  : delete all messages that have/contain text as Subject
  -D      : delete all messages in the queue (local and remote)
  --clean : delete all messages in the queue (local and remote), same as -D option
  -V      : print program version

Additional (optional) parameters:
  -c      : display colored output
  -N      : list message numbers only
            (to be used either with -l, -L, -R or -T)

You can view/delete multiple message i.e. -d123 -v456 -d567

# 

To show qmail stats, run

# /usr/local/psa/admin/bin/mailqueuemng -s -N 
Messages in local queue:  0
Messages in remote queue: 44
Messages in todo queue:   0
Messages total:           44
Messages found:           0
Timestamp: 1503307267
# 

Email Storage location

/var/qmail/mailnames/DOMIN.TLD/MAILBOX-NAME

Whitelist a domain in gray list

/usr/local/psa/bin/grey_listing --update-server -whitelist add:*@some-domain.com