Russian YouTube clone aptly named RuTube
is getting some major funding from Russian media holding group
Gazprom-Media, with the company acquiring a majority stake in the
online video-sharing site. Gazprom is actually valuing RuTube at $15
million, and will be pouring "several million dollars in the RuTube
business," according to a report on Quintura's blog.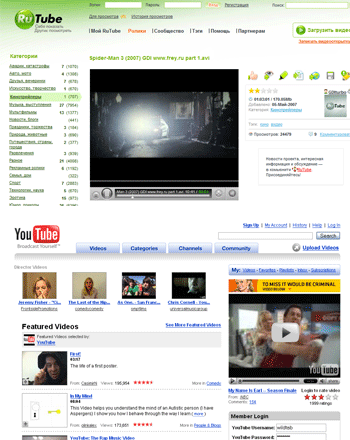 With about 400,000 daily users and consumption of over 40 million videos per month, the monthly revenues reportedly reach about $400,000. The site have alexa Rank of 1,286. This is good. But the money they make seems very good for a site with such traffic.
There are many youtube clone sites, but many of the non-english youtube clones like chinese and russians get lot of populariry due to local interest. Quintura mentioned this by noting that US-based youtube clones do not get such attension like youtube clones in other countries like China, Germany and Russia.
A $15 million valuation isn't bad for the boot-strapped RuTube, which was started shortly after YouTube was acquired by Google. Well, that's a dream come true, now isn't it? The Russian market is heating up in the online space, with LiveJournal recently having been acquired by Russian company SUP as well.