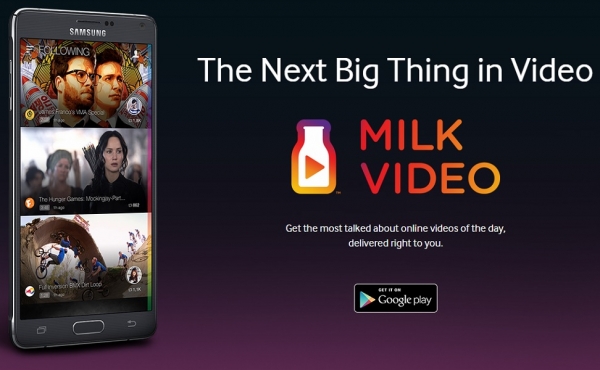 Samsung is looking to dive deeper into the online content industry with the introduction of Milk Video, the video counterpart to the Milk Music streaming service that the company launched back in March.
Milk Video is a free product that can be enjoyed by users of the company's Galaxy smartphones. It features a curated collection of videos supported by social media functionalities that simplify searching for and sharing popular videos online.
Through the service, Samsung will also be offering exclusive content from partners, which include Funny or Die, Red Bull and VICE.
Kevin Swint, vice president of content and services at Samsung, said that the company looked to make the discovery of popular videos easier for users, preventing them from feeling that they were the last one to watch trending videos.
With Milk Video, Samsung hopes to turn around its bad history when it comes to the company's expansions into media. One example of a failed venture by the company is the discontinued Samsung Media Hub for TV shows and movies, which functioned similarly to Apple's iTunes and Google's Play store.
Samsung is currently keeping Milk Music afloat despite all the competition in the space, including Pandora and Spotify, as the company knows that it is important for users to receive quality music and videos on their Samsung devices.
Videos that can be accessed through Samsung's new service will usually be shorter feature videos, including clips from TV programs, exclusive content from sporting events as supplied by the Red Bull Signature Series, and episodes on a couple of new series by Funny or Die that will be exclusive to Milk Video.
A "Following" list will allow users to keep informed on the latest featured videos by content providers and brands that the users have liked, with categories available for browsing.
Users will not be required to sign up for accounts to access Milk Video, but they will have to sign in using their Facebook accounts or other social media accounts to be able to follow other Milk Video users and share videos.
Milk Video is currently available only in the United States, and only for the Galaxy smartphones that Samsung has produced since 2012, which includes the Galaxy S3 up to the Galaxy S5 and the Galaxy Note 2 to the Galaxy Note 4.
Swint, however, added that the company will likely expand Milk Video to also be offered to other products in the future, including TV sets, wearable devices and even the Gear VR headset.
While Milk Video represents a valiant effort for Samsung's entry into online video, the service is still massively dwarfed by Google's YouTube, which has a much longer and more well-known list of content providers and a massive user base.
Users watch 6 billion hours of videos on YouTube monthly, with 40 percent of that time viewed through mobile devices.