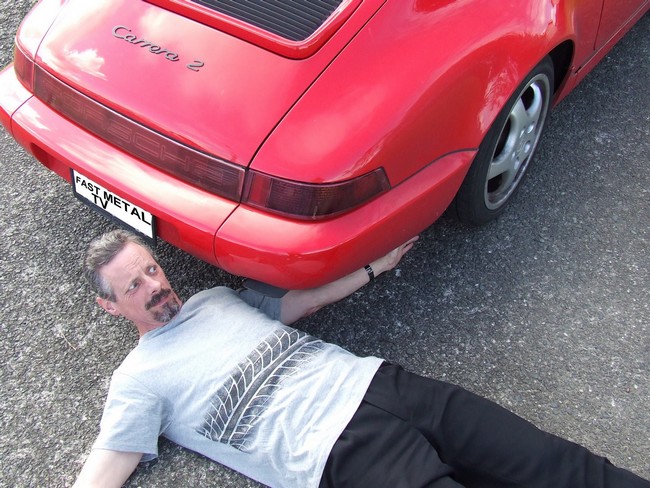 A new video website run by an ex-Waikato university student is gaining ground in the US.
Fastmetal.tv has only been online for two and a half months but already the site creator
Hoss Cartwright refers to the number of visits as 'significant'.
Hoss has been involved in many web projects over the last 5 years, however he says that
this is the first to show the sort of growth that most people associate with successful
internet sites. "Traffic graphs on all of the other sites that I've been involved in
showed a series of peaks followed by dips similar to a set of saw teeth. However fastmetal.tv
looks like a steeply rising set of saw-teeth. I've never seen that before.
It's all a bit frightening really."
Cartwright claims that there are enough lulls in the traffic so that he can sleep nights.
"It'll die sometimes for an hour or two before taking off again, the lulls are enough for
me not to panic about it growing faster than the systems."
The vast majority of traffic to the site is coming from the US with Australia second but a
long way back. Traffic from New Zealand is so low in comparison that it is barely visible
on the graph readouts. The only time that New Zealand did feature briefly traffic-wise was
when the local Vespa community discovered a video on the site of a scooter rider doing a
very long wheelie. "That had an effect that could be measured alright," said Hoss.
The site came about almost by accident according to Cartwright after he started a co.nz
using the same fastmetal name. He decided to bring a Youtube-type site online for a hobby
and that it quickly outpaced the original site in terms of traffic. The co.nz site focuses
on car reviews and whilst it too is growing, there are only a couple of dozen reviews online
yet and so it has nothing like the traffic figures of the dot tv site.
The tv site focuses mainly on car videos but with a sprinkling of bikes, trucks, scooters
and planes mixed in. Approval of videos is tightly controlled, as Hoss believes that the
site can't stand poor quality content. So far he claims to have been lucky in gaining a
small core of users who place good videos online. There are limits to what will be accepted
on the site.
Nothing harder than 'raunchy' gets past the chief censor, and anything that might cause
offense is clearly labelled. "There's a compilation of news clips in one video where you
just know that the people involved are getting killed, it was a marginal call but I decided
that people could self censor for that video."
The ultimate aim of the site is now to gain enough traffic so that the old Turkey Brain
concept can be re-launched, but this time into the States and with a mainstream name. Hoss
believes that rather than failing due to poor conception, Turkey Brain failed due to lack
of cash. "We couldn't penetrate without any backing.
If we can get the traffic then it's a different story."
One of the drivers behind the traffic steams to fastmetal tv seems to be Google.
According to Hoss, typing 'fast metal' into google results in the reviews site coming up
second on the list and the tv site showing up on the second page but climbing fast.
Hoss has no idea when the number of site visits will rise to the point where useful leverage
can be gained. He claims that trying to predict penetration for an internet startup is
foolhardy, and that fastmetal.tv could simply flatten out or go completely ballistic without warning.
However he's hoping that it continues its present growth rates so that the site doesn't have the
immense technical problems associated with internet companies which experience hockey-stick
growth curves.
"We can't cope with immense growth. I'm hoping that it stays controllable."
Source  www.fastmetal.tv