Some of the local sites on my pc is not working. When i tried to access, its showing like
Unable to connect

Firefox can't establish a connection to the server at hostonnet.co.

The site could be temporarily unavailable or too busy. Try again in a few moments.
If you are unable to load any pages, check your computer's network connection.
If your computer or network is protected by a firewall or proxy, make sure that Firefox is permitted to access the Web.
So I tried to restart the Apache and getting the following error
Windows could not start the Apache2 on Local Computer. For more information, review the System Event Log. If this is a non-Micorsoft service, contact the service vendor, and refer to service-specific error code 1.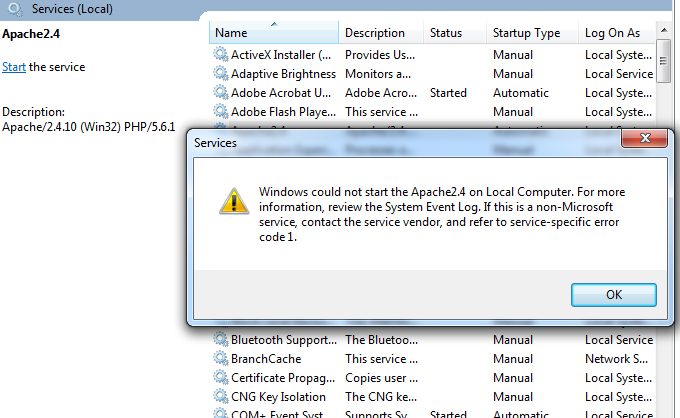 I checked the httpd.conf file and removed +ExecCGI from below line
Options Indexes FollowSymLinks+ExecCGI
This line I added for enabling Perl/CGI on my Windows PC
Problem solved by removing ExecCGI, restarted Apache and local sites are working fine now