All of you know Facebook give a archieve download for downloading all facebook data in your computer.
Then Why we need new way ?
Facebook archieve has many problem like.
1. In Facebook Archieve you found only recent Messages.
2. Not download Facebook all Mesaages.
3. Not show pictures of friends
How to download deleted facebook messages
SocialSafe is a Computer software . This software make backup of all social network profile like facebook,blogger,pinterest ,twitter and instagram. With the help of this software you can make backup of all Facebook Activities and Messages.
Steps to download Facebook Messages Automatically in Computer
1. First Download SocialSafe Software
2. Open this Program and Go to Accounts.
3. Faceebook section , Click on Right side button and tick everything.
4. Click on Sync,Write Down your username and password.
5. Allow Social Safe FB Permissions.
6. Click on sync ,wait for sometime this software download all of your facebook messages from your FB Account.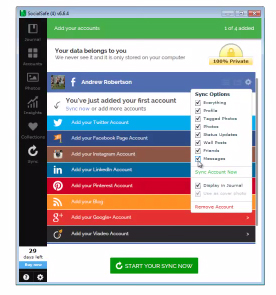 Check the video tutorial below