What is Chromecast?
Chromecast is a thumb-sized media streaming device that plugs into the HDMI port on your TV. Set it up with a simple mobile app, then send your favorite online shows, movies, music and more to your TV using your smartphone, tablet or laptop.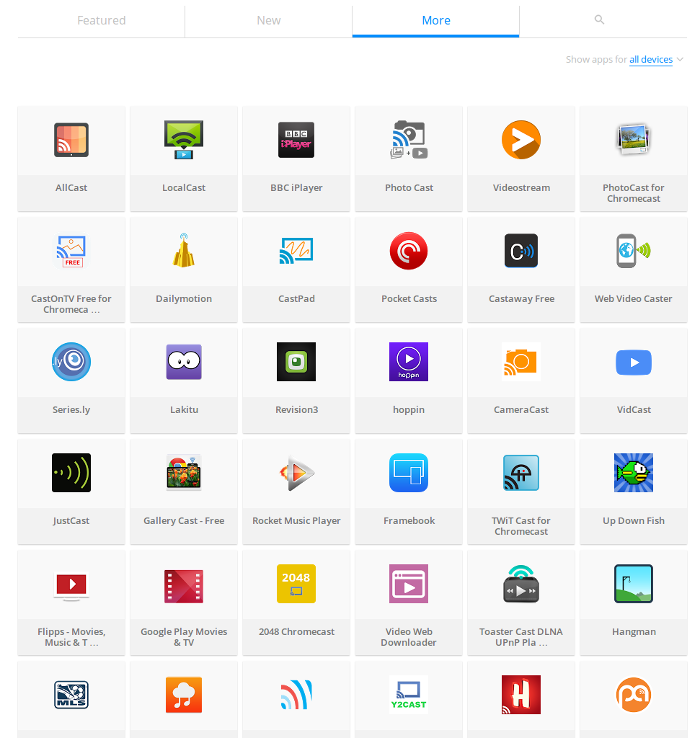 The official Chromecast page has not thus far been a good resource for finding apps. It only listed a tiny fraction of the apps with Chromecast support, but now you can use the page to see all the apps. That's a lot of apps, but luckily you have search functionality now too.
Basically, Google has added some new tabs to the app discovery section. It you click on "More," the page shows you some popular Chromecast apps as shown in above picture. Down at the bottom of the list you can click "Show More." You can do this over and over until you get bored. There's also a dropdown to filter apps for Android, desktop, and iOS.
The search tab is on the far right, and it too has the filter menu. Queries here will only search Chromecast-enabled apps, but it's just indexing the names. As such, it's not as robust as the full Play Store search. But hey, now you have an actual reason to go to the Chromecast site sometimes.