My domain is hosted on a linux server and I am using Exim mail server on the same. Today when I tried to send an email via webmail, got the following error message:
ERROR
Message not sent.
Requested action aborted: error in processing
Server replied: 451 Temporary local problem - please try later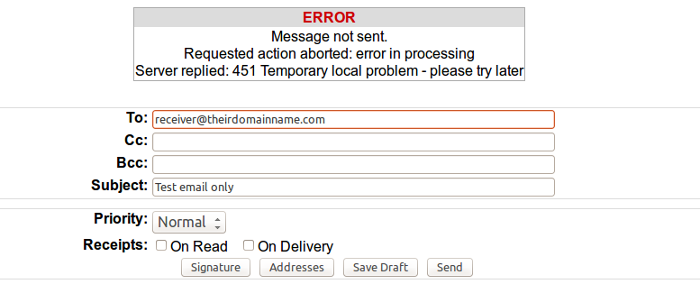 Tried in all interfaces such as Horde, Roundcube and Squirrelmail. All were giving error.
Doing below thing will resolve the problem:
In WHM, go to DNS Functions >> Edit DNS Zone > select particular domain name, then click on Edit button > scroll down the page where you can see 'Email Routing for (The domain is owned by aktoilse.)'
Routing selector should be "Local Mail Exchanger more » OR " "Automatically Detect Configuration: Local (recommended) more »".

Change the selection to Local Mail Exchanger & issue will get resolved.