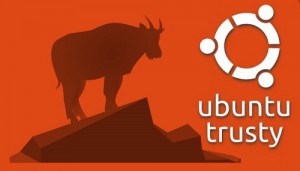 Ubuntu Linux version 14.04 LTS has been released and available for download. Ubuntu Linux is a community-based Linux distribution. The latest release of Ubuntu brings the best open source technologies together on one platform, with the benefit of free updates for 5 years. This latest release of Ubuntu Server is heavily focused on supporting cloud computing, mobile phones & tables, 64-bit ARM-based microservers support.
What's new in Ubuntu v14.04 ?
Linux kernel version 3.13.0-24.46
MySQL v5.6
MariaDB v5.5
PHP v5.5
Apache v2.4
Python v3.4
Xen v4.4
Libreoffice v4.2.3
Puppet v3.x
LXC 1.0

StrongSwan IPSec – a feature rich, modern IPSec solution.

Networking – Included Open vSwitch 2.0.1 support (including VXLAN), better bonding support, better bridge management and diagnosis and new buffer bloat avoidance measures. We also introduce better TCP connection management in the face of packet loss, plus TCP fastopen and improved attack tolerance.

OpenStack – Icehouse version – Open source cloud infrastructure deployment and management framework.

Better thermal and power management.

ARM multiplatform support has been added, Additionally, the ARM64 and Power architectures are now fully supported.

Docker container engine.

Improvements to AppArmor allow more fine-grained control over applications.

The Xorg display server and drivers have been updated to the 15.0.1 release and mesa has been updated to 10.1.
As part of the wider Ubuntu 14.04 release efforts the Ubuntu Touch team is proud to make the latest and greatest touch experience available to our enthusiast users and developers. You can install the latest version on the following mobile devices:
Nexus 4 Phone (mako)
Nexus 7 (2013) Tablet (flo)
Nexus 10 Tablet (manta)
Download Ubuntu 14.0 LTS Trusty Tahr CD/DVD iso Images
Download 64 bit version to take full advantage of computers based on the AMD64 or EM64T architecture. This is useful for server and workstation. Select 32 bit version if you are not sure about your processors type.
32 bit desktop CD image
64 bit desktop CD image
64 bit desktop CD image for Apple Macbook/MacPro/MacMini
32 bit server CD image
64 bit server CD image
64 bit server CD image for Apple computers