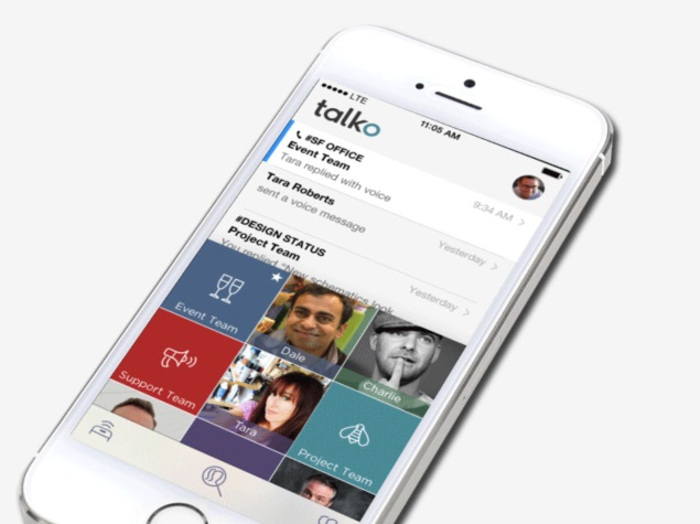 Former Microsoft exec Ray Ozzie has finally launched his much-anticipated new startup — mobile messaging and calling service Talko — to the public today.
The service is initially iOS-only, and it aims to bring a range of mobile communications, including calls, text messages, voice messaging and location, together into a single package. Talko looks much like other mobile messaging apps, but it aims to address the need for collaborative, business communications, Ozzie told Re/Code.
Ozzie, Microsoft's former chief software architect, hopes to orchestrate voice's comeback through Talko, a mobile application that is being released for iPhone. A version for Android phones is expected in a few months.
Talko sends the equivalent of text messages in the form of a spoken word. Talko users can record a voice message and send it over the internet to anyone else with the app. Recipients listen to the recording when it's convenient, rather than being interrupted by a traditional phone call.
Talko is aimed at the enterprise market, but it follows the trend toward consumerization of apps that people end up using for work. Like other user-centric enterprise apps, it's targeting a bottom-up approach to user acquisition — that is, it's hoping to get a few users hooked, who will invite their coworkers and team members to use the same group of features in an effort to get their whole organization hooked.
Along those lines, the company is planning a business model where the Talko app will be free to use, but users will have to pay a monthly subscription fee to access any calls or data that was recorded a certain number of days earlier. It has yet to decide on how long data will be accessible before the company charges for it, or how much it will charge per month for the service. However, it's likely that Talko's premium set will cost less than $10 a month for access to any data older than a week or 10 days.