While I was reading the tech news, found a post like 'Earn money at bubblews by post and share'. I just searched about bubblews and found the following.
What is Bubblews.com ?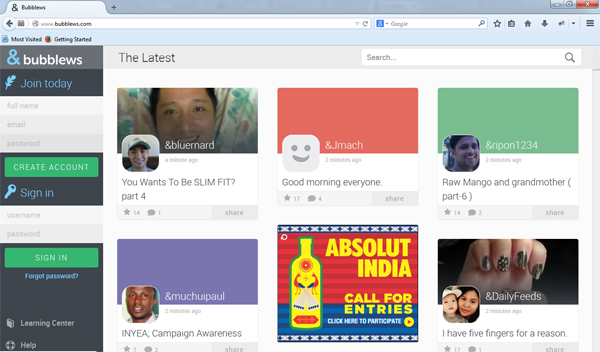 Bubblews is a site where you can write posts, and earn while doing it. Many people are writing anything from personal posts to professional style posts.
You earn by getting likes,comment's and views to your posts. The pay is roughly a penny per each.
How to earn on Bubblews
Bubblews likes to pitch itself as a social networking site and makes claims to be the new Facebook site for bloggers.
You can earn on Bubblews in the following ways:
• Getting Likes from other writers on Bubblews
• Comments on your posts
• Social Media Shares
• Referral Program
Likes from other Bubblers
As soon as you have published a new post you will find your post will probably be "bombarded" by other writers clicking on the like button of your article. You will find that you soon build up a band of local followers that religiously click on the "Like" button.
You can see who has liked your article under Notifications which are displayed in what I call the dashboard.
Every time you "receive" a like you will earn 0.01 cents. Over time this builds up so if your post receives twenty "Likes" you will have earned 20 cents. It is generally expected that you will "like" the other writers' posts as well. It is a good idea to return the favor as often writers will come back to your new posts to hit the like button again. So if you publish ten articles per day and each article receives 20 likes you would have earned $2.
Comments on Bubblews
Below the article and advertising space there is a comments section. Each post can achieve an unlimited amount of comments. For every comment left you will also receive 1 cent.
Some articles do not receive any comments at all and therefore do not earn anything from comments. Other articles receive hundred of comments and 100 comments will mean you have earned $1. The average amount of comments per post tends to be between ten and twenty. In other words after twenty comments you will have earned 20 cents for the post.
The user name of the person who left the comment will be visible and you can link back to profile page of that writer. You can now choose to leave a comment on one of their posts.
Social Media Shares on Bubblews
On the left hand side of the post you have six social media buttons available:
• Facebook
• Twitter
• Google Plus
• InShare from LinkedIn
• Tumblr
• Pinit from Pinterest
Every time a visitor to your post shares your article on social media you will also earn 1 cent. I can't say the social media share button are used as much as the comments or like buttons but they are growing in popularity.
Bubblews will pay you by Paypal. They call the payment a redemption and there are a lot of references on the site to the Green Button which is what you need to click on in order to receive payment.
Once you have hit the Green Redeem Button you will be asked to fill in your contact details and your Paypal email. The minimum you can redeem is $50 but most writers redeem in between $53 – $55. It takes in between 7 to 15 days to receive the payment and it is normally sent to you in the way of an E-check.
There are four different profile lay outs. The profile lay out which works the best is Informer as it shows your last five posts and top five posts.
The maximum amount of posts you can make per day is ten, and each post needs to have at least 400 characters.
As always don't forget to attribute images correctly and the maximum image size is 1MB.
Bubblews is indeed a bit of a new comer and seems to be going through a lot of trials and tribulations but it may be worth your time on a part time basis.
Is Bubblews a Scam Site?
I dont't know bubblews-is it scam site or legit
I've read a ton of comments from people who are both pro and anti-Bubblews on the site and various blogs around the Internet. Go through the below url for more
http://www.google.co.in/search?q=Bubblews%2Bis%2Bscam