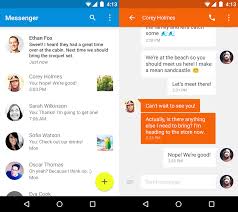 Google on Wednesday released a new standalone Messenger app on Google Play with Material Design and all new features that were missing from its stock SMS app, called Messaging in some iterations. The company has also started to roll out the Material Design update to the Google Search app along with new reminder features and the ability to search within an app using the 'Ok Google' voice command.
The Messenger app that comes pre-installed on Android 5.0 Lollipop can now be downloaded for devices running Android 4.1 and higher from Google Play. The app essentially works as standalone messaging app only, unlike Hangouts. It allows users to send and receive SMS and MMS (audio, video, pictures) messages. Just like the stock SMS app,
Apart from the new Material Design theme, the new Messenger app has brought a few new features that distinguish it from the stock SMS app and Hangouts. The app gives users more control with the new block feature that was missing in the SMS app. It also includes support for audio messages, emoticons, coloured text threads, message archiving and more. Notably, Google had replaced the stock SMS app with Hangouts in Android 4.4 KitKat.
On Wednesday, Google also announced that it is rolling out the Material Design update to its Search app, which we had earlier seen in testing last month. The updated Search lets users search within apps using 'Ok Google' voice command. Recently, Google was encouraging third-party app developers to integrate this 'Ok, Google' voice command for their in-app searches as well.
"Google can now help you search for exactly what you need-even if it's in another app. With a simple prompt like Ok Google, search Tumblr for 'Things Organized Neatly', Google will take you right into the app. This now works with a number of apps, so you can also research the best Maui hotels on TripAdvisor, listen to your jam on TuneIn, find a dream home on Trulia, or get tips on how to carve a turkey on YouTube – right from the Google app," notes the company in its blog post.
The updated Search app also allows users to flip a coin using "Google, flip a coin" voice command and it does that. Google Nexus 6, Nexus 9 and Samsung Galaxy Note 4 users can also set up 'Ok Google' voice command even the device is asleep, just like the Moto X.
Apart from the new features, the Google Search app update brings it in-line with the Material Design philosophy of Android 5.0 Lollipop. It features bold colours and smoother paper-like animations, along with the simplified layouts for Google Now cards which can also take notes from emails and will prompt to add an event to Calendar.