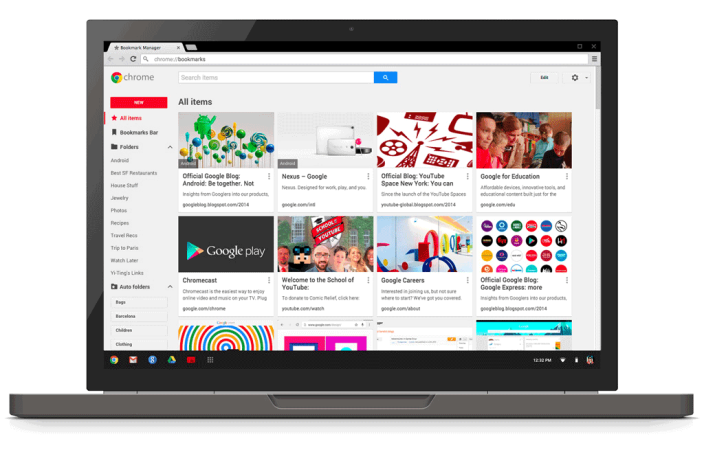 Google introducing a new Bookmark Manager feature with its beta version of Chrome. As per the sources, the new feature will be rolled out in the coming weeks.
With the new feature, you'll be able to select an image and add a note or "snippet" to save along with a bookmark to make it easier to find later, and Chrome will also suggest a folder for it if it detects one that makes sense.
So when you access your bookmarks later, you'll be able to see the content of the bookmarks via a grid-like display, with your own notes and snippets you added. Google says that your existing bookmarks will automatically be updated with pictures and descriptions, where it can.
To take Chrome's new bookmark management system for a spin, point and click on Chrome Menu > Bookmarks > Bookmarks Manager. If you're running the latest beta version of Chrome, here's what you can expect:
Improved search: Quickly find that elusive page with search powered by Google, which looks not only at the bookmark title and snippet, but also the bookmarked page's content.
Collect bookmarks by topic: Your bookmarks will automatically be organized by topic, like "Tokyo" and "Photography." If you'd rather, you can still organize them into folders yourself.
Familiar bookmarks, new look: Your existing bookmarks will automatically get updated with images and descriptions, wherever possible.
Share: Have a folder of favorite bookmarks? You can make it public and share the link with whomever you'd like to access it.
Access your bookmarks anywhere: Bookmarked an article on your phone to finish reading on your laptop? Chrome will continue to sync your bookmarks across all of your devices, just like it does today.